"Writing is a way to transform your worst experience into the most beautiful."
What should people know about you?
People saw me on "The Today Show" plugging my Random House books, and doing standing room only book events with famous editors and agents and assumed my big-city career was exciting and glamorous. So when my students ask about my background, I like to share the truth: Finishing my graduate degree in poetry, I was a failed poet for 12 years. I couldn't make a living as a book reviewer. I was told my confessional writing was too autobiographical for fiction. I wasn't funny enough to be a comedy writer. I finally published three memoirs in my forties that weren't big hits. After these kooky parties I hosted for my debut comic novel "Speed Shrinking" were on TV, everybody begged me to host their speed shrinking party, so I became almost famous for the wrong thing. Then I co-authored 3 books which did better, and now I make a living working 50 hours a week, freelancing and teaching.
By day I'm the bestselling author/co-author of 12 books my family hates (Five Men Who Broke My Heart, Lighting Up & Unhooked.) My husband doesn't like being written about either and has threatened to publish his memoir "The Bitch Beside Me." By night I'm a Manhattan writing professor who teaches the popular "instant gratification takes too long" method I invented -where the goal is: write and publish a great piece by the end of the class.
Tell me about a time you turned something down. (We fudge with this a little here and instead talk about a rejection that turned out to be for the best, but I maintain Sue still technically turned down dating other guys to end up with Charlie!)
After working for four years as an editorial assistant at The New Yorker in my twenties, I finally landed an amazing job: writing my own book column for Newsday, where I was allowed to choose which books I wanted to review. It was syndicated across the country. I felt powerful, able to champion poetry, short stories and essay collections from small publishers, living on shrimp from fancy book parties. I made $8000 one year selling the extra review copies I didn't pick back to the Strand Bookstore. After I was unfairly fired (for a dumb reason), my boyfriend dumped me. I freaked out and cried to my shrink "I've lost my love - and work -and I'll never be able to land another job as perfect for me." She said "Didn't you once tell me if you weren't reviewing books, you'd rather be writing them?" And then I was fixed up with Charlie, a tall, brilliant scriptwriter I adore. We recently celebrated our 22nd anniversary. I did good at the husband store. Of course I published a piece about it, "Losing my fantasy job led me to my dream life." As I tell my students - "writing is a way to transform your worst experience into the most beautiful."
What's the best or worst advice you've ever been given?
When I was quitting smoking and drinking (subject of my book "Lighting Up") my addiction therapist told me to stay clean, happy and successful I should "lead the least secretive life you can." My conservative Midwest father countered that with "Repression is the greatest gift of the human intellect." I lost him last year, but I still laugh at his great lines. I quoted him in a recent essay.
As a former student I have to ask. How does it feel to know that you've been instrumental in launching so many writing careers for your students?
At first, when a Jungian astrologist told me "you'll take others higher than you can take yourself," it seemed like a curse. And bizarrely accurate: I'd fixed up many marriages while I was still single, and helped tons of protégés launch major book projects before I could publish my own. But now that I've found success in love and work, it feels like a blessing. Someone I fixed up with her great husband (and father of her 4 kids) told me "you're one of the magic people." I've realized that being able to change someone's life for the better is a powerful blessing. Teaching started out as a part-time gig to help me make a living but has become a calling. I fought to include the short pieces that 60 students published in my class in my new writing guide "The Byline Bible." Since I quit all my other addictions, I'm now addicted to book events. The best part has been doing readings and panels around the country with so many former students - for many it's the first time they've ever read their work in front of an audience. I had a lot of great teachers, editors, and mentors who helped me, so it feels like I'm passing on all their great karma.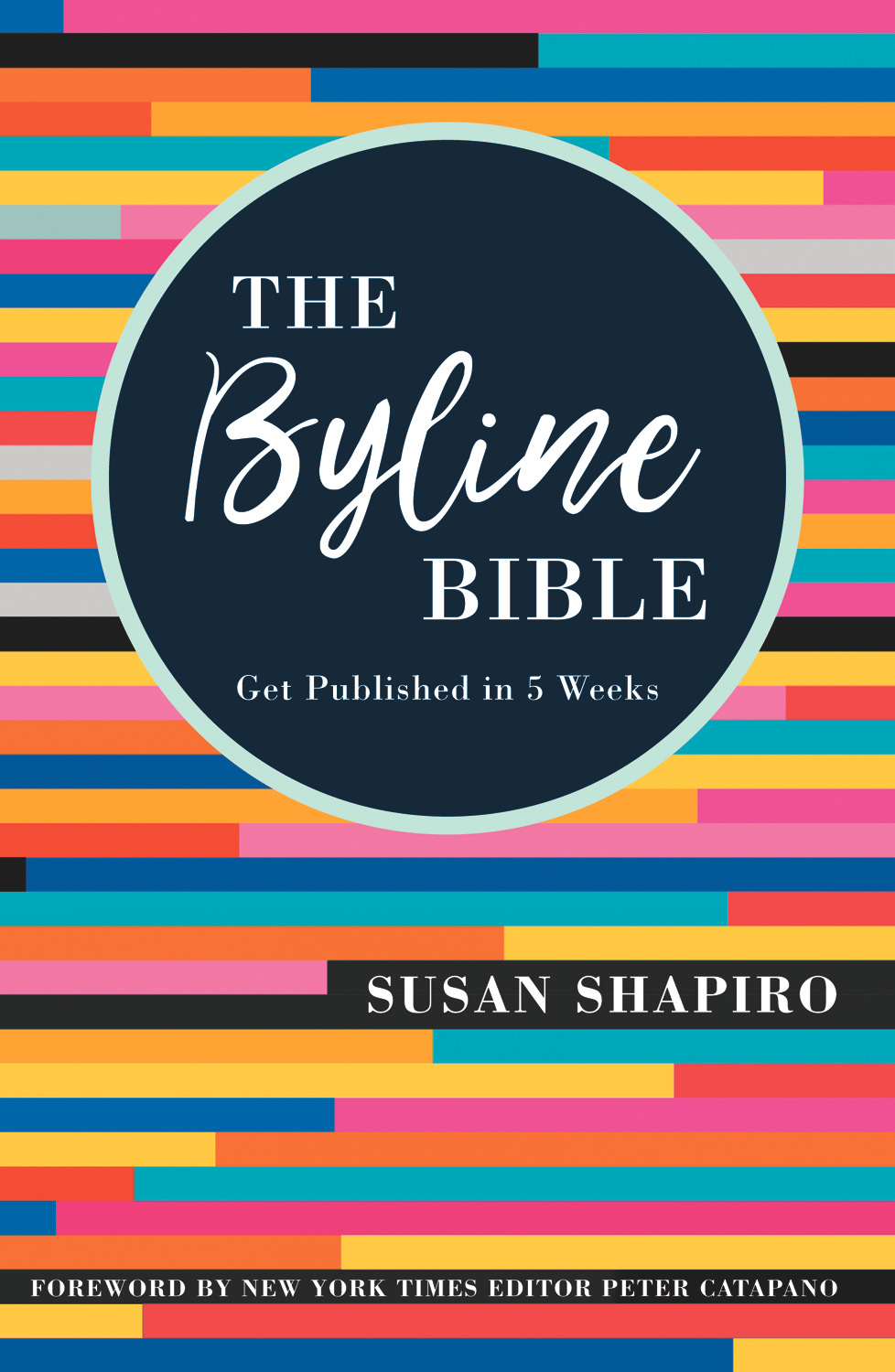 Find Sue on Twitter, Facebook and her website to keep up with her writing, her books and her available classes.